Tumblr decided to ruin the proportions of all of the pictures in this post, so ignore that. I have tried redoing it and inserting them again, but the same result. So yeah. Enjoy though!
I have always wanted a huge wooden artist's desk, something like what you would find in a college workshop, or overpriced in Anthropologie. Something big and heavy and solid, something that will only look better the more you use it. The natural solution to this desire is to build it myself. 
Ashley and I happened across a great wood pile while driving through the neighborhoods of Fort Walton, so we stopped and gathered up the pieces that had some character. They look like they used to form a shed on the water. They weren't quite as nasty as dock wood would be, but they were certainly salty and water worn. They are perfect. We took our new reclaimed wood treasures back home and let them sit outside for a few days while I pondered the shape and dimensions of my desk.
Eventually I decided that the best way to do this task was to haul the pieces up to my room and place them in the shape I wanted and see what happened. To do this I had to empty and move the large wicker buffet Ashley has set up for me. It is not on its side any more, I set it back on its legs after the cats spent the better part of an hour treating it like their own personal castle.
So that is the wood before I figured out what to do about it. I decided I should lay the pieces down in a desk-shaped way and see what I actually had materials for.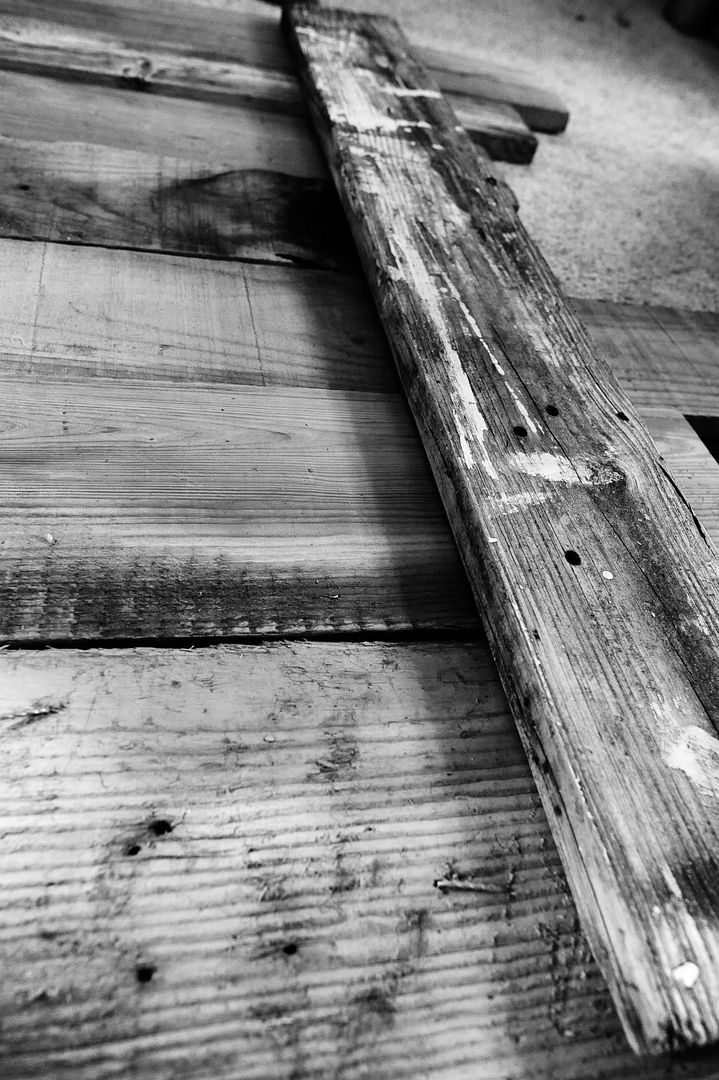 It turns out I have enough wood to make a desk about 5' wide and about 3' deep, which is just what I was going for. I intend to install a jeweler's saw stand on one side, too, which will be awesome :)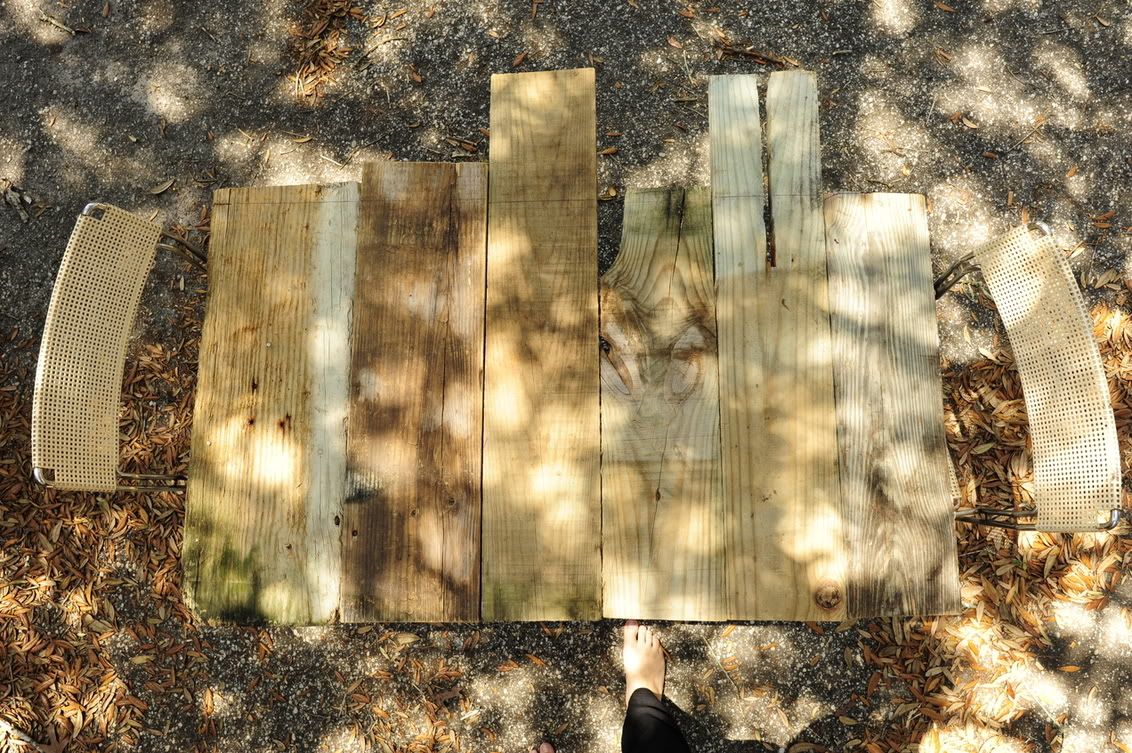 This is the table top in its most basic form. The flat, weathered side is going to be the side that faces me, and the jagged side (after being trimmed to sit flush with the wall) will be the side away from me. The boards with gaps in them are intended to let the wires from my desk electronics sit inside. It looks a lot more organic that way, and much prettier than clumping the wires to the side or drilling a big hole.
I will eventually sand down the whole thing because right now it is one giant splinter factory. I will also fill in between the boards so I don't drop things between them, but not all the way to the edges of the desk, because I want it to retain that nice worn look. There will also be a piece of trim made out of a 3x2"x5' board that will be nailed to the wall-side of the desk to create a mini shelf to line my jars of artist's stuff on. Pics to come when I install that, promise, because it doesn't even make sense to me yet and I designed it. The board I chose is awesome! It is all rusted and has a bunch of rusted out nail holes in it. I am going to seal it so it stays exactly that way, I love the colors and texture.
We tried to cut the boards today with a skil saw and it just didn't happen. It isn't quite a big enough saw to make it through the heavy boards, so I am going to disassemble the table top (This is why i used screws instead of nails, portability!) and carry it to the UWF woodshop and finish up there.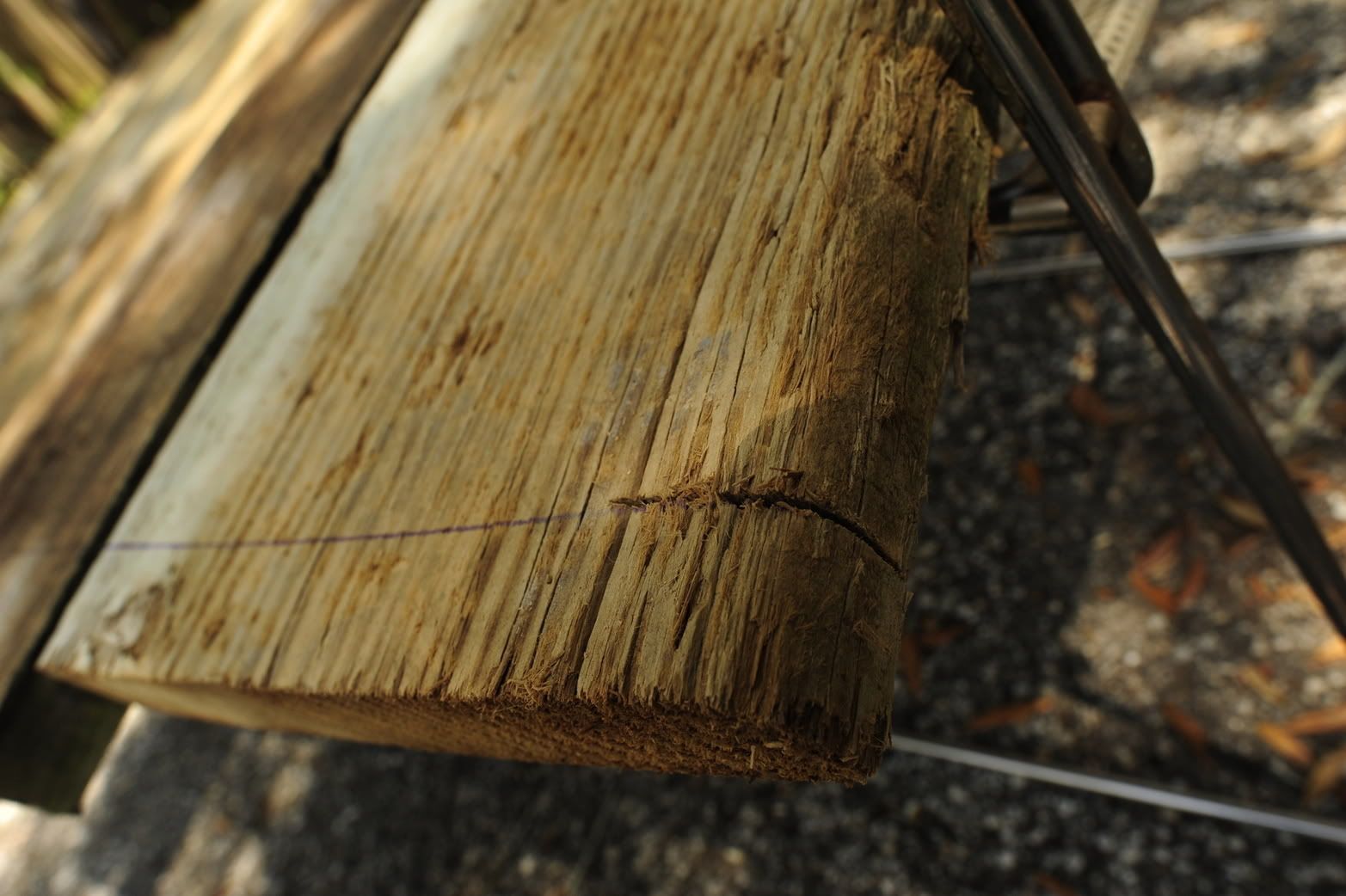 You can see where the saw just wanted to just chew on the wood instead of cutting it.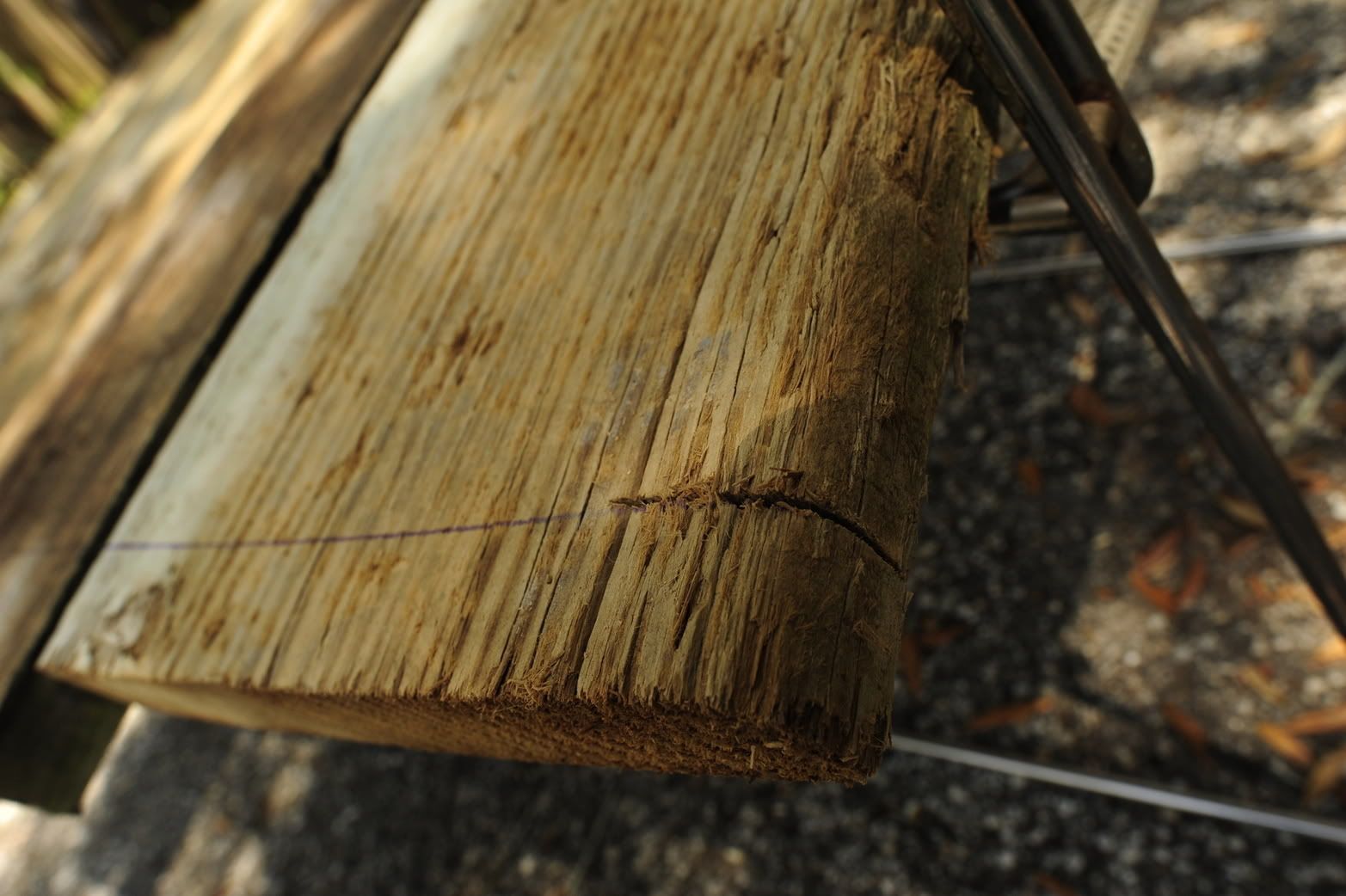 I feel like Handy Dan Carlynne with this project and I am pleased with its progress so far! We should be able to go to UWF tomorrow… Here's hoping!